Hobart boasts a thriving and dynamic small business community, with numerous state-of-the-art coworking spaces available for those seeking a professional workspace.
Regardless of whether you're a freelancer seeking a focused environment or a start-up in need of a private office, there's easily a Hobart coworking space available to meet your needs.
Hobart coworking prices are subject to changes however. We recommend that you reach out directly to the coworking space to verify the latest details.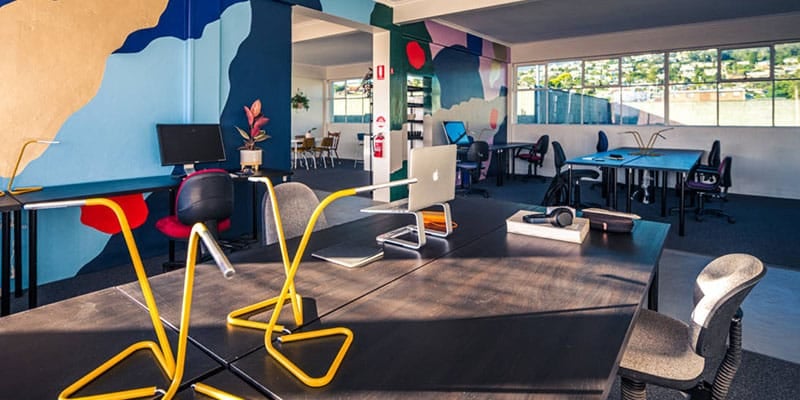 Parliament Coworking
Parliament Coworking prioritises quality over quantity, and exceptional location. The Hobart coworking venue is situated on the picturesque waterfront of Hobart, housed in a charmingly converted sail loft and surrounded by a plethora of parks, cafes, restaurants, and bars.
Since inception, Parliament Coworking has steadily expanded, with a sister space situated in Art Deco Loft on Moonah's bustling cafe strip. Both spaces offering hot desks, dedicated desks and private offices to clientele.
Pricing
Hot Desk: $240 per month (incl. GST)
Dedicated Desk: $355 per month (incl. GST)
Private Office: Starting from $3937 per month (incl. GST)
Address: Levels 1 & 2 / 1A Brooke St, Hobart TAS 7000
Phone: 0427 876 736
Trading Hours: 24/7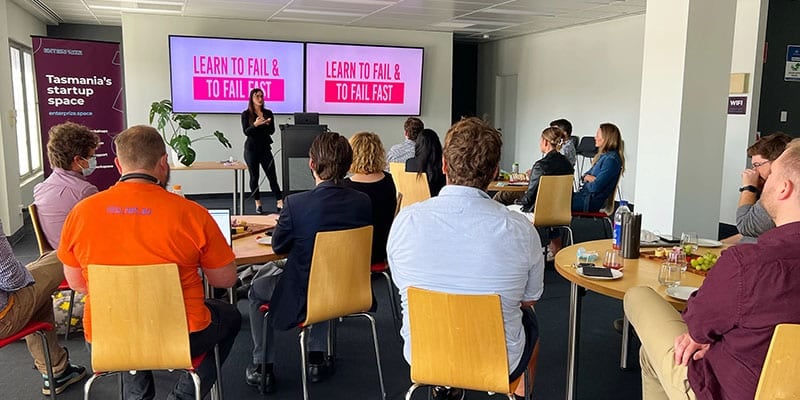 Enterprize
Enterprize operates dynamic coworking spaces in Hobart and Launceston, serving as communal hubs for startups, innovators, and creatives. It offers a collaborative environment where members can learn, create, and grow together.
Beyond just providing a workspace, Enterprize focuses on the broader benefits of coworking, including networking opportunities, professional development events, and a healthy work-life balance. Members have access to a range of flexible workspace options, from day-use to private offices, along with amenities like gigabit NBN, printing facilities, well-stocked kitchenettes, and regular social events. It's not just a place to work, but a community to thrive in.
Pricing
Day Pass: $55 per day + GST
Hot Desk: $220 per month + GST
Dedicated Desk: $280 per month + GST
Private Office: Starting from $500 per month + GST
Address: Level 5 / 24 Davey St, Hobart TAS 7000
Phone: 1300 821 115
Trading Hours: Mon-Fri 9:00am-5:00pm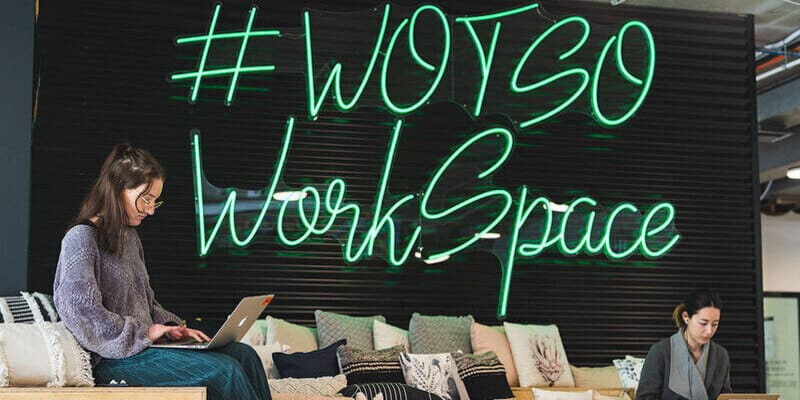 WOTSO
WOTSO's Hobart coworking spaces offer a practical yet engaging environment to focus on work, with a mix of seating spaces and desks as well as high-speed internet.
With 16 coworking spaces located throughout Australia and additional spaces overseas, becoming a WOTSO member provides benefits such as 24/7 access to hot desking at other locations.
Pricing
Day Pass: Starting from $50 per day + GST
Dedicated Desk: Starting from $300 per month + GST
Private Office: Starting from $600 per month + GST
Address: 162 Macquarie St, Hobart TAS 7000
Phone: 1800 496 876
Trading Hours: 24/7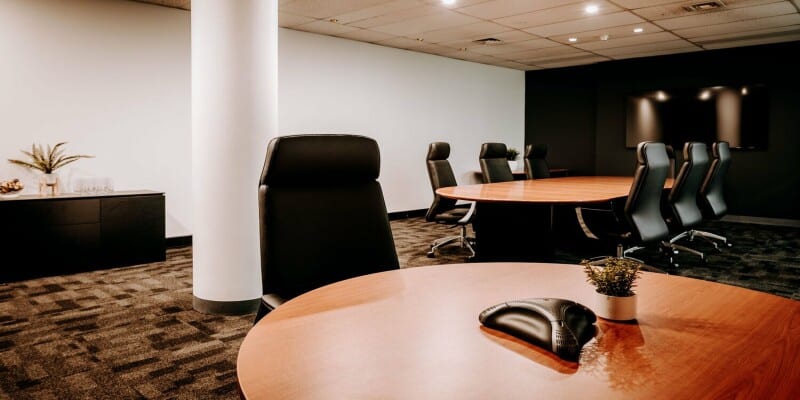 Corporate Centre Hobart
Coprorate Centre Hobart's coworking offices are perfect for growing businesses, offering the flexibility to start with one office and add another when needed.
Hobart Corporate Centre offers comfortable and efficient serviced offices situated in the bustling business district of Hobart. Located just 100 metres away from the GPO and across from the Tasmanian Museum and Art Gallery, this tranquil and serene atmosphere makes it an ideal workplace for professionals.
Pricing
Private Offices: Starting from $990 per month (incl. GST)
Address: Level 3, 85 Macquarie St
Phone: (03) 6270 2222
Trading Hours: Mon-Fri 8:30am-5:00pm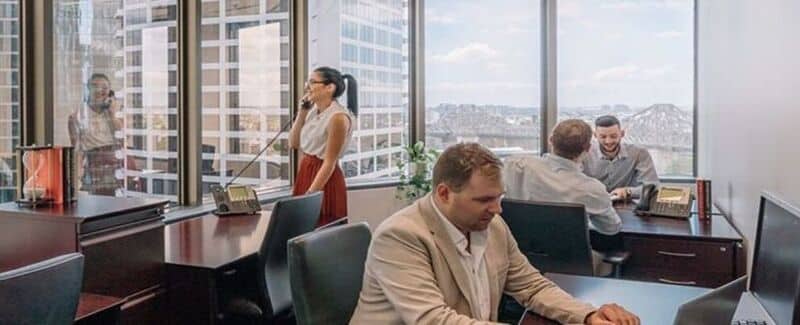 Servcorp
Servcorp's Hobart coworking lounges provide a shared working environment designed for professionals who seek a more refined and established coworking experience. In addition to coworking lounges, Servcorp provides professional coworking spaces at selected sites, as well as on-demand private offices, boardrooms, and meeting rooms.
The Coworking Lounges offer the right amount of solitude needed to help users complete their tasks. They feature top-notch interior design and are supported by a sophisticated, multi-million dollar IT infrastructure and global network that meet the requirements of modern businesses.
Pricing
Private Offices: Starting from $1,533 per month + GST
Virtual Offices: Starting from $199.20 per month + GST
Meeting Rooms: Starting from $90 per hour + GST
Address: 111 Macquarie Street, Hobart, Australia
Phone: (03) 6108 9100
Trading Hours: Mon-Fri 8:45am-5:15pm
I hope you found this review of the top 5 Hobart coworking spaces useful!
If you'd like to learn more about our Hobart web design team, don't hesitate to check out our site.
Not in Hobart? Check out our other posts about the top coworking spaces in Sydney, Brisbane, Adelaide, Melbourne, Gold Coast, Sunshine Coast or Perth!
Wishing you a fantastic day,
Georgia