Choosing the right SEO tool can have a significant impact on your online success. Today, we're comparing Ahrefs and Semrush, two leading platforms in the SEO industry.
We'll explore their unique offerings, usability, accuracy, pricing, strengths, and weaknesses to help you decide which one fits your needs the best.
Understanding Ahrefs vs Semrush
Ahrefs
Ahrefs is a notable contender in the field of SEO toolsets, renowned for its rich backlink index and user-friendly interface. Its tool suite allows you to delve deep into backlink analysis, keyword research, and competitor scrutiny, providing actionable insights to boost your SEO strategy.
With its extensive database of live backlinks, Ahrefs offers a detailed understanding of your website's link profile as well as those of your competitors. This enables you to effectively strategize your link-building endeavours.
Semrush
On the flip side, Semrush stands as a comprehensive suite of SEO and digital marketing tools, encompassing areas such as SEO, PPC, social media, and content marketing. It's an all-in-one platform catering to the varied needs of digital marketers.
Semrush's versatility extends beyond SEO, offering rich features for PPC campaign management, social media tracking, and content marketing insights. This makes it a multifaceted tool for businesses looking for a comprehensive solution to their digital marketing needs.
At a Glance
At a high level, Ahrefs and Semrush both offer unique advantages. Ahrefs shines in the realm of backlink analysis, making it a favourable option if you're heavily invested in crafting a meticulous link-building strategy.
On the other hand, Semrush presents itself as a versatile solution, meeting broader digital marketing needs beyond SEO. Its extensive feature set covering PPC, social media, and content marketing makes it a compelling choice for businesses seeking an all-in-one platform.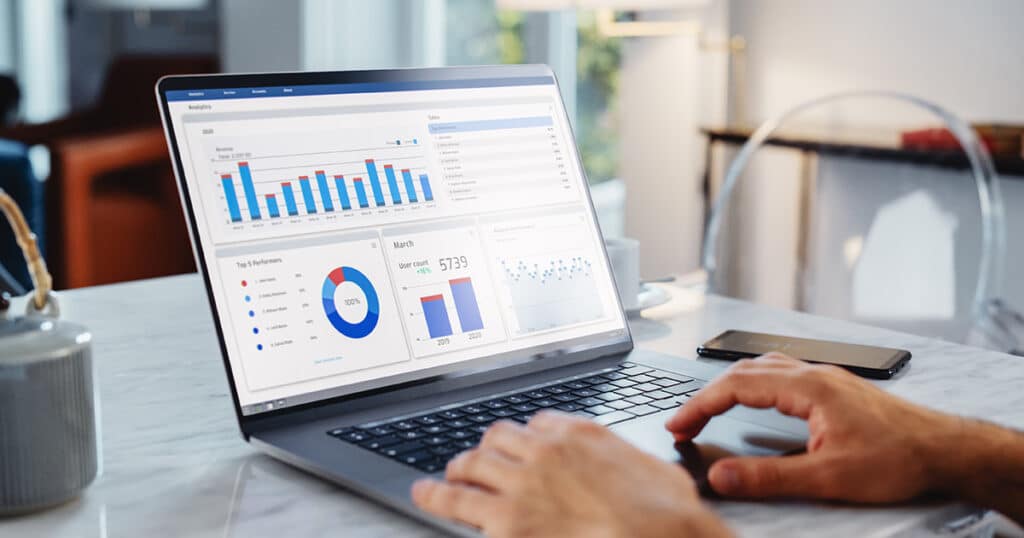 Key Features
Ahrefs Key Features
Ahrefs' defining strength is its prowess in backlink analysis and keyword research. Its comprehensive backlink database is a treasure trove of insights, helping you understand not just your own website's link profile, but also your competitors.
These insights are instrumental in guiding your link-building strategies. Its keyword research tool is equally commendable, enabling you to identify high-potential keywords to target in your SEO and content marketing efforts.
Semrush Key Features
In contrast, Semrush is a jack of all trades, offering an assortment of tools for SEO, PPC, content marketing, and social media. This wide coverage makes Semrush an excellent choice for businesses that need a comprehensive tool to handle diverse aspects of their digital marketing strategy.
Its SEO features are robust, but where Semrush truly excels is in its additional offerings like PPC campaign management, content marketing insights, and social media tracking.
Key Features: Ahrefs vs Semrush
When put side by side, both platforms offer valuable features, but in different areas. They both provide robust tools for keyword research, SEO audits, and rank tracking.
However, Semrush brings additional versatility to the table with its PPC and social media tools, giving it an edge for businesses needing a broad-spectrum solution. In contrast, Ahrefs stands out for its superior backlink analysis capabilities.
Ease of Use
Ahrefs User Experience
Ahrefs shines in the realm of user experience, thanks to its minimalist design ethos.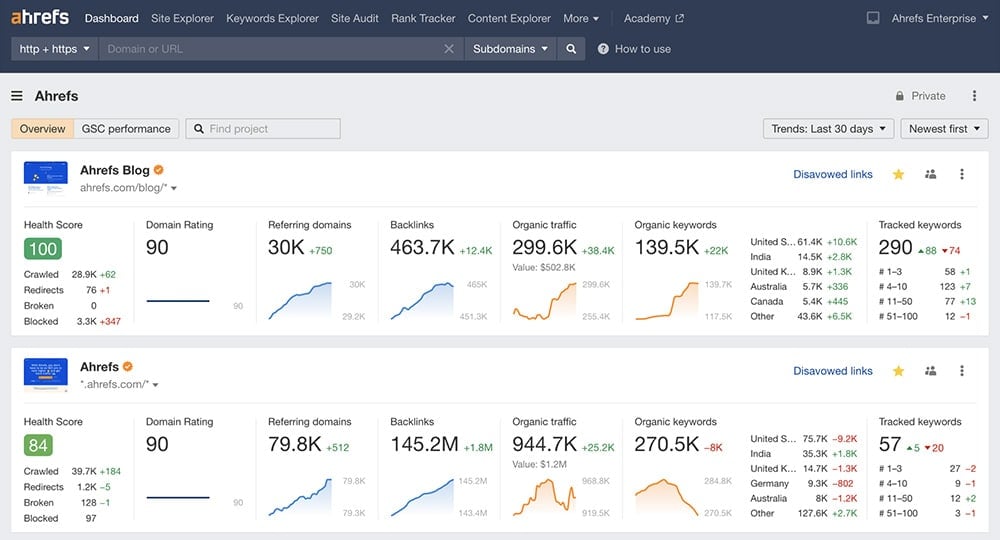 Its clean and uncluttered interface simplifies navigation, making it easy for users of all skill levels, from SEO newcomers to seasoned professionals, to find and use the features they need.
It's a tool that doesn't intimidate, but instead invites exploration, making the rich array of features accessible and easy to use.
Semrush User Experience
Semrush takes a different approach, bundling its extensive features into a comprehensive dashboard.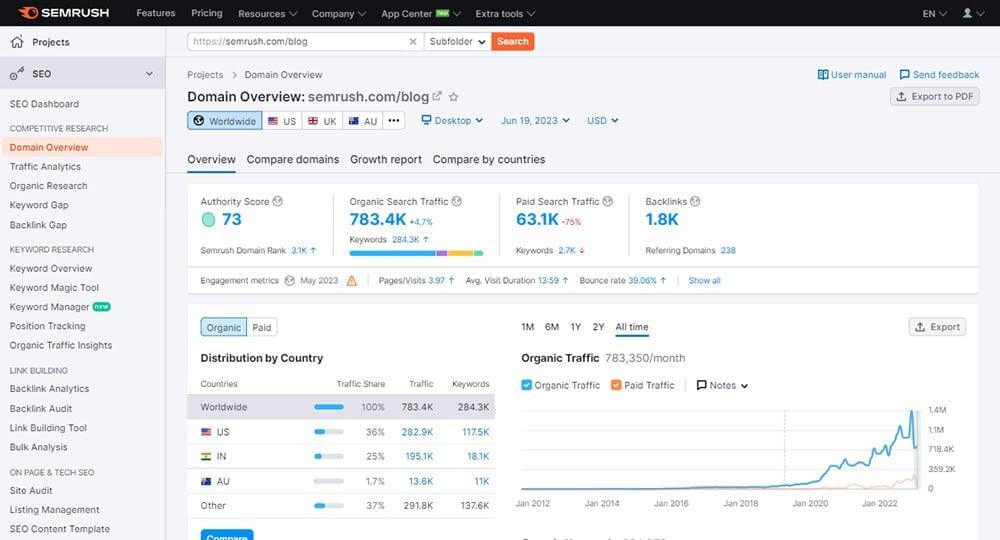 This centralized approach means there's a lot to take in initially, but once you've gotten the hang of it, the dashboard becomes a control centre that puts a vast array of tools at your fingertips.
Despite the initial learning curve, Semrush's dashboard-based design ultimately serves to streamline your workflow.
Ease of Use: Ahrefs vs Semrush
In terms of ease of use, both Ahrefs and Semrush have their merits.
Ahrefs, with its simpler design, is perhaps more approachable for beginners. Its straightforward, clutter-free interface makes it easy for anyone to start using the tool effectively right away.
On the other hand, Semrush's comprehensive dashboard might be a bit overwhelming for beginners, but once you've acquainted yourself with it, you'll appreciate the power and convenience it brings.
Data Accuracy
Ahrefs Data Accuracy
When it comes to the accuracy of data, Ahrefs is a powerhouse. It boasts one of the most extensive and frequently updated databases, making it a reliable tool for backlink analysis and keyword research.
Ahrefs also uses their extensive data to publish key insights and statistics relating to the SEO industry, one being that 66.31% of webpages have no backlinks.
The accurate and up-to-date data provided by Ahrefs can be the cornerstone of your SEO strategy, allowing you to make informed decisions and craft effective SEO campaigns.
Semrush Data Accuracy
Semrush is also well-regarded for its data accuracy. It shines particularly in the areas of keyword research, traffic analysis, and competitive analysis.
Semrush provides a wealth of accurate and reliable data about your own website as well as your competitors, helping you craft an effective digital marketing strategy.
Data Accuracy: Ahrefs vs Semrush
For data accuracy, Ahrefs and Semrush are both top performers. They both provide accurate and reliable data that can serve as the foundation for your SEO and digital marketing efforts. Your preference may ultimately depend on which tool's data presentation style suits you best.
Pricing
Ahrefs Pricing
Ahrefs offers a variety of pricing plans, starting from $99 USD per month for its Lite plan and going up to $999 USD per month for its Enterprise plan.

Each tier offers a different set of features, allowing you to select a package that best matches your needs and budget. Whether you're a small business or a large enterprise, Ahrefs has a pricing plan that can accommodate your needs.
Semrush Pricing
Semrush follows a similar pricing structure, with plans starting from $119.95 USD per month for the basic 'Pro' plan and going up to $449.95 USD per month for the 'Business' plan.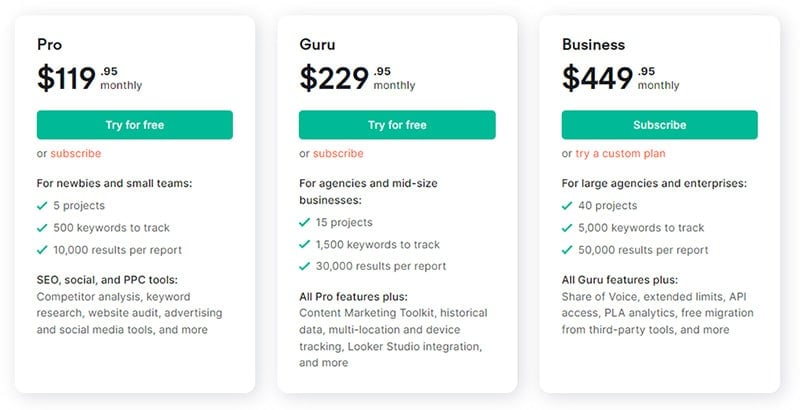 Semrush also offers custom pricing for enterprises with unique needs. Like Ahrefs, Semrush provides a range of options to cater to different business sizes and budgets.
Pricing: Ahrefs vs Semrush
Both Ahrefs and Semrush offer competitive pricing with a range of packages to cater to different needs. While Ahrefs offers a slightly cheaper entry-level plan, Semrush provides a more extensive feature set in its base plan.
Customer Support
Ahrefs Customer Support
Ahrefs provides customer support via a detailed knowledge base, video tutorials, and email support. However, it does lack live chat and phone support, which may be a disadvantage if you need immediate assistance.
Ahrefs' email support team is responsive and knowledgeable, but if you prefer instant, real-time assistance, you might find this aspect lacking.
Semrush Customer Support
On the contrary, Semrush offers a broader spectrum of customer support options, including a comprehensive knowledge base, video tutorials, email support, and phone support.
Semrush's customer service has been praised for its responsiveness and effectiveness. The inclusion of phone support provides an extra layer of convenience when you need immediate assistance.
Customer Support: Ahrefs vs Semrush
Both Ahrefs and Semrush offer comprehensive customer support, but Semrush takes a slight edge with the inclusion of phone support. This provides an additional, immediate line of communication for users, which can be crucial in time-sensitive situations.
Ahrefs vs Semrush Verdict
When it comes to SEO tools, both Ahrefs and Semrush are powerhouses in their own right. Both tools are robust and effective, and your choice will ultimately depend on the specific needs of your business and your personal preferences.
If your top priority is a thorough and reliable backlink analysis tool, Ahrefs stands as the superior choice. However, if you're seeking a comprehensive, all-in-one digital marketing platform, Semrush's broader suite of tools offers more versatility.
Frequently Asked Questions
Can I use both Ahrefs and Semrush?
Yes, you can use both. Some digital marketers find that using both gives them the best of both worlds. It ultimately depends on your needs and budget.
Do these tools offer a free trial?
Yes, both Ahrefs and Semrush offer a free trial. This allows you to test out their features before committing to a subscription.
Are there cheaper alternatives to Ahrefs and Semrush?
Yes, there are cheaper alternatives available such as Moz, Ubersuggest, and Serpstat. However, they may not offer the same extensive features and data accuracy as Ahrefs and Semrush.
Can these tools help with local SEO?
Yes, both Ahrefs and Semrush offer features that can assist with local SEO, including local keyword tracking and local competitive analysis.
Next Steps
Choosing between Ahrefs and Semrush is only the beginning. These tools, while powerful, are designed to supplement your digital marketing efforts, not replace them.
It's crucial to continue monitoring your strategies and adjusting them based on the data-driven insights these platforms provide.
To take your digital marketing efforts to the next level, consider looking at our SEO services. We leverage these tools plus several more and our industry expertise to deliver tailored SEO strategies that drive real results.
Whether it's Ahrefs or Semrush, the tool you select should align with your unique goals. Make the choice, start learning the ropes, and harness the power of SEO for your digital growth!
To your success,
Jackson