Let's dive straight into 5 quick and easy ways for you to improve your websites SEO today so that your customers can start finding you on Google!
Optimise Your Website
Page content length and quality
The first thing you'll want to focus on updating is the length and quality of content on your website.
This is extremely important because Google sees websites with little content as less useful to the searcher and therefore won't rank you as highly.
Google's main focus is getting the searcher to the answer they seek as fast as possible so if your website doesn't have much content then it assumes you likely won't have the answer.
I'd recommend you aim for around 500 – 600 words per page on average while still maintaining its quality to get the best results possible.
Mobile friendly
Over half of all website visitors in the world now come from mobile devices and if Google sees your website isn't compatible it will lower your websites rank significantly.
You can test to see if your website is mobile friendly by opening your website on your smartphone to see if everything is laid out nicely so that don't have to zoom in to read the page copy.
Page speed / load time
This is another key indicator to Google as to whether your website is professional and trustworthy.
If your website is taking longer then 3 seconds to load you'll already be losing over 30% of your website visitors but Google will also see this as a reason to decrease your websites rank.

Visit PageSpeed Insights to test your websites load time.
You can improve your website page speed by upgrading your hosting, optimising your image sizes, utilising website caching or by working with a web developer to improve your websites code.
Keywords in your page content
If you want to rank highly for certain keywords then you obviously need to be using these in your titles and content.
Don't try and cheat the system however by 'keyword stuffing' your pages with the same phrase over and over.
Write your content for humans to enjoy.
Google bots are smart enough to identify if your page content is of a high quality so you'll only be hurting your website if you try and over saturate your pages with the same keywords.
Secure pages
Your website needs to load via HTTPS, this isn't optional.
You can check if your website is secure by looking for a green padlock next to your websites URL in your browser or by checking the link itself to see if it has https at the front.
If it has http then your website is not secure and it will be incredibly hard to find your website anywhere on Google.
If your website is loading via HTTP then I'd recommend you reach out to your web developer or website host immediately to request a free SSL certificate be installed on your website, this will allow your website to load over HTTPS once setup.
URL structure
This is another small detail that Google checks to see if your website is user friendly because 'pretty' URLs like www.whitepeakdigital.com/blog are clearly nicer to look at then www.whitepeakdigital.com/index.php&id=54.
If you're using WordPress you can change this yourself by visiting Settings > Permalinks in the back-end and changing the URL structure to the 'Post name' option.
Submit Your Website to Google
Submitting your website and sitemap to Google is the quickest way to get your website in Google search results.
If you don't have a moderate understanding of your website and how to use Googles tools I'd recommend you consult a web professional to assist you with this.
If you'd like to give it a go however then simply navigate to Google Search Console to then login to your Google account and connect your website.
Once you've verified your website with Google you'll be given access to several useful tools but we'll only be covering the Sitemaps section today.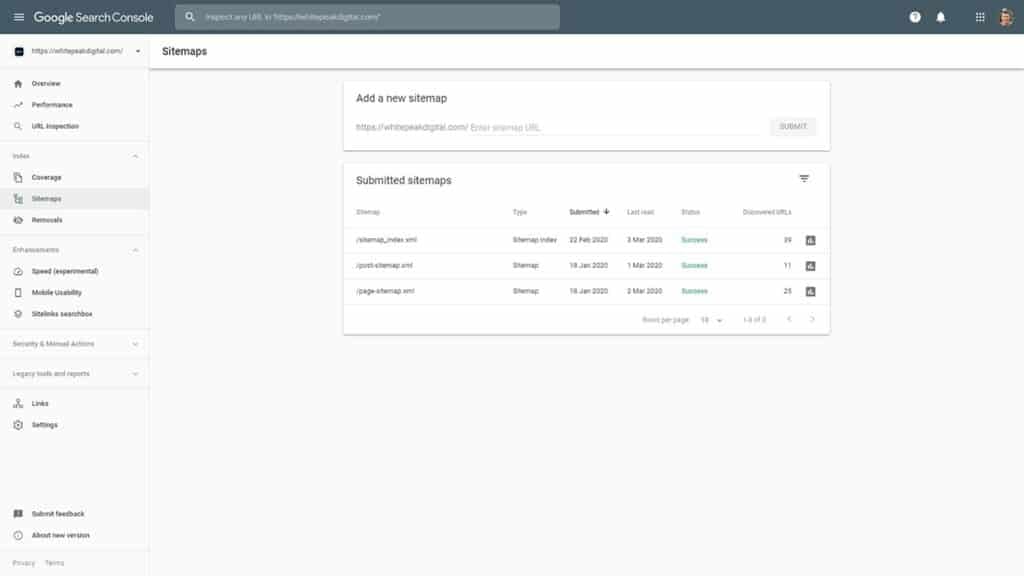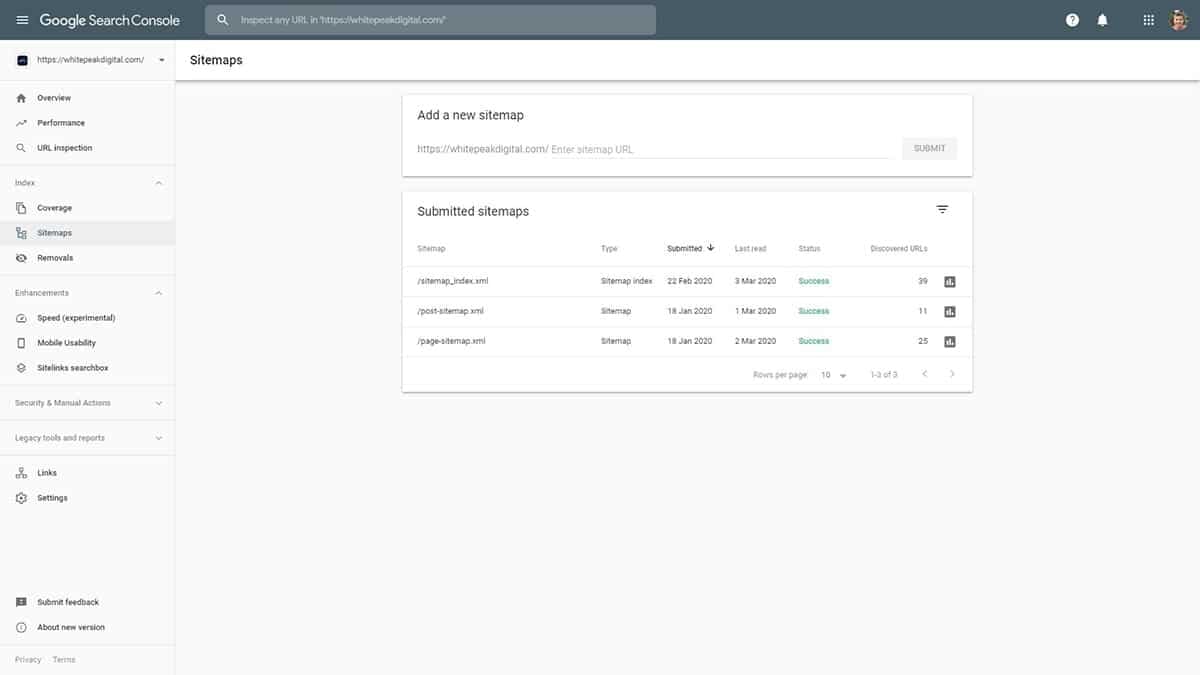 Open the Sitemaps tab and simply past the URL of your websites sitemap and click Submit.
If you're unsure if your website has a sitemap then you can try adding /sitemap.xml or /sitemap_index.xml to the end of your website's URL (like www.whitepeakdigital.com/sitemap_index.xml for example).
If you can't find your website sitemap or your website hasn't got one at all then I'd recommend you speak with your web developer or if you're using WordPress you can install a plugin like Rank Math SEO which will create one for you.
Create a Google Business Profile
Google Business Profile is incredibly useful for collecting online reviews and it can be even more useful for local stores to display their address, opening hours and contact details.
Even if you don't serve customers physically I'd still recommend you set one up and link it to your website so that whenever someone searches for your business all you're details pop up on the right hand side.
Check out this other blog post of ours if you'd like to learn how to setup a Google Business Profile.
Start a Blog
Another great way to target more keywords, grow your page content / quality and have a better chance of ranking highly on Google can be by starting a blog and posting on it consistently.
Even if you only post something once a month that is usually more then your competitors and this will show Google your website is still current and up to date and will drastically increase your websites rankings over time.
Build Quality Backlinks
The final piece of advice that I can give you would be to start building some quality inbound links to your website.
Quality inbound links are when another website of high quality puts a link to your website on one of their pages.
This shows Google that your website must have some valuable content for another reputable website to be linking to it.
It's even more impressive when websites in the same niche or industry link to your website because it tells Google that your content is extremely useful to that target market.
You can get these inbound links by posting a guest article on another website, giving an interview and requesting they add a link to your website or even by answering questions online and linking back to a relevant blog post on your website.
Conclusion
Rising through the ranks of Google doesn't happen overnight but if you implement these five simple tips then you're well on your way to outranking your competition.
If you have any other questions or would like help or advice on implementing these recommendations for your business then please don't hesitate to reach out to me directly on LinkedIn.
If you'd like to learn more about our Brisbane web design team or work with us directly then please don't hesitate to reach out.
To your success,
Jackson