If you're looking to improve your local SEO, your Google Business Profile listing is a great place to start.
Continue reading to learn how to create your own Google Business Profile account, verify your business and optimise its listing.
Create A Google Business Profile (formerly Google My Business) Listing
Step 1
Visit google.com/business and select Manage now in the top right-hand corner off the page and sign-in if asked.
Step 2
Enter your business name & choose a primary business category.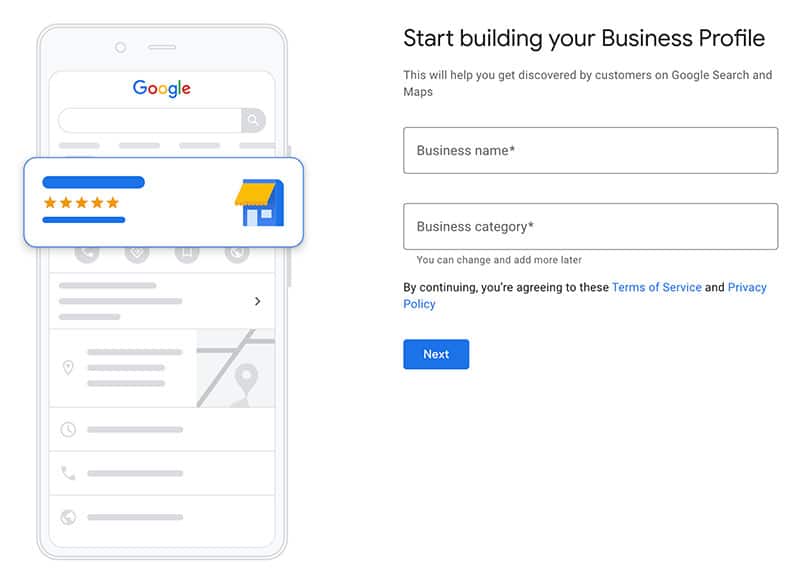 Step 4
Choose whether you'd like to show an address for your business publicly. If you select Yes, enter your address and select if you serve customers anywhere else.
Step 5 (optional)
Add service areas for your business. If you leave this blank you'll be asked what region you're based in.
Step 6
Enter a contact phone number and website (optional) for your business to be shown publicly.
Step 7
Select Finish and then enter your mailing address to verify your listing (if you didn't add a public address earlier) or select Verify later.
Verify Your Business On Google
Skip to Step 4 if you're carrying on from the previous section.
Step 1
Visit google.com/business and select Sign in in the top right-hand corner off the page.
Step 2
Go to the Manage locations tab and select Verify now next to the listing you'd like to verify.
Step 3
Enter your mailing address (if your listing doesn't have a public address).
Step 4
Within Australia, you'll likely only have the Postcard by mail verification option.
Step 5 (optional)
Enter a Contact name that the postcard will be addressed to.
Step 6
Click Mail. The postcard can take anywhere from 5 to 21 days to arrive, or sometimes longer.
Don't edit your business listing name, address or category (or request a new code) before it arrives or this may delay the verification process.
Step 7
Once you've received the postcard, login to Google Business Profile and select Verify now next to the listing the postcard is for.
Step 8
In the code field enter the five-digital verification code on your postcard and then click Submit.
If your postcard never arrives or your list it you can request a new code by signing into Google Business Profile and selecting Request another code.
You'll want to wait at least a month for your first code to arrive before doing this however because as soon as you request another the original code becomes invalid and you'd hate for it to turn up the next day.
Optimise Your Google Business Profile Listing
Once you've verified your Google Business Profile address you can finish setting up your listing.
If your listing is appearing on Google already then you can edit everything from Google search if you're logged into the owner's account (see below).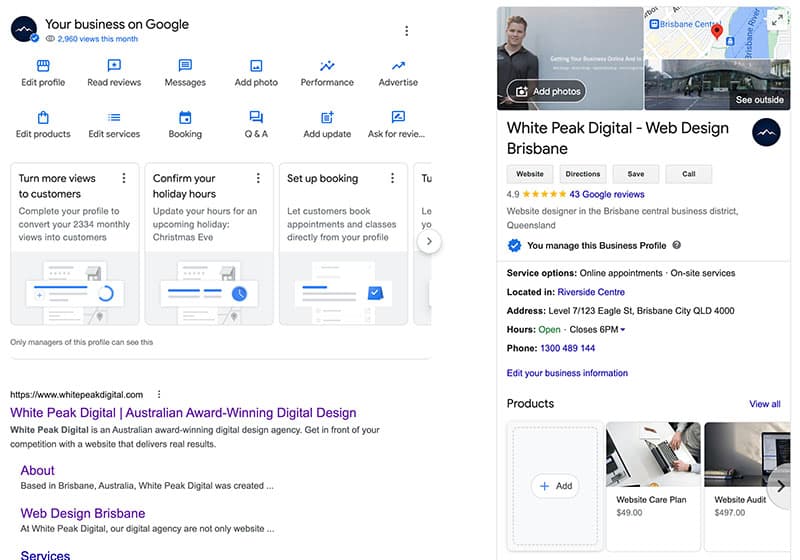 If this is not the case then you'll need to login to the Google Business Profile dashboard (google.com/business) to edit your listing.
Complete every relevant field with as much information and detail as possible.
Also include as many images as you can, include exterior and interior pictures of your storefront or office along with photos of your staff at work to get the most out of Google's algorithms.
According to Google, businesses with photos receive far more clicks to their website and higher requests for driving directions in Google Maps.
Photos should be at least 720 pixels wide by 720 pixels high and JPG or PNG files.
You can also add videos to your Google Business Profile listing.
Videos must be under 30 seconds, less then 100MB and be 720p resolution or higher.
Final Notes
If you're targeting local customers then a Google Business Profile (formerly Google My Business) listing is essential to your businesses ongoing success.
Now that you've got a Google Business Profile listing you may want to look into creating a custom email address to look more professional online (name@yourbusiness.com for example).
Find out how you can quickly setup your own custom email address using Google Workspace.
I hope this guide has helped you grow your business online and that you start receiving more customers because of it.
If you've got any other Google Business Profile questions or would like our Brisbane web design teams help optimising your listing and website SEO please don't hestiate to reach out!
To your success,
Jackson