The majority of sites only have a 0.1 to 0.2 percent conversion rate which means it takes around 1000 visitors to get a single customer.
So, let's take a look at 10 easy ways that you can increase your websites conversion rate today.
So how do we increase our websites conversion rate so that we can get more leads / customers with the traffic we already have?
Let me show you the 10 best ways to improve your websites conversion rates overnight:
Add a pop-up to your website
According to a recent study by Sumo, website pop-ups have an average conversion rate of 3.09% but from their research they found that the top 10 percent of highest performing pop-ups average a 9.28% conversion rate which is exceptional.
A highly effective website pop-up can dramatically improve your conversion rate and is something our Brisbane Web Designers include on almost every website we build at White Peak Digital.
The trick between the average pop-up and the high performing ones are a few key details that I'll highlight below:
Pop-ups with more context convert higher
They don't appear immediately, instead they often have a 15-30 second delay
The best pop-ups have a clear and engaging headline
High converting pop-ups offer something of real value
The call-to-action matches your offer (would you click 'Subscribe' when a pop-up is offering you a free eBook?)
A few other quality of life and user experience tips I can give you is to make sure it's still easy to close your pop-up so that a visitor doesn't feel stuck on something they're not interested in, to go along with this I'd also highly recommend setting up a website cookie that remembers not to show the same pop-up to that visitor next time.
This combination will give you a huge boost in conversions while keeping the interruption to your website visitors to a minimum.
Adding a pop-up to your website is at the top of our list because it's often the only addition you need to make to your website to see a dramatic improvement in your conversion rate.
Add social proof (testimonials, reviews and logos)
No one wants to be the guinea pig, just like no one wants to be the first person to use the product or service you're offering.
Giving them peace of mind in this area is therefore a great thing to do on your website by adding social proof like testimonials or reviews from previous customers across your site.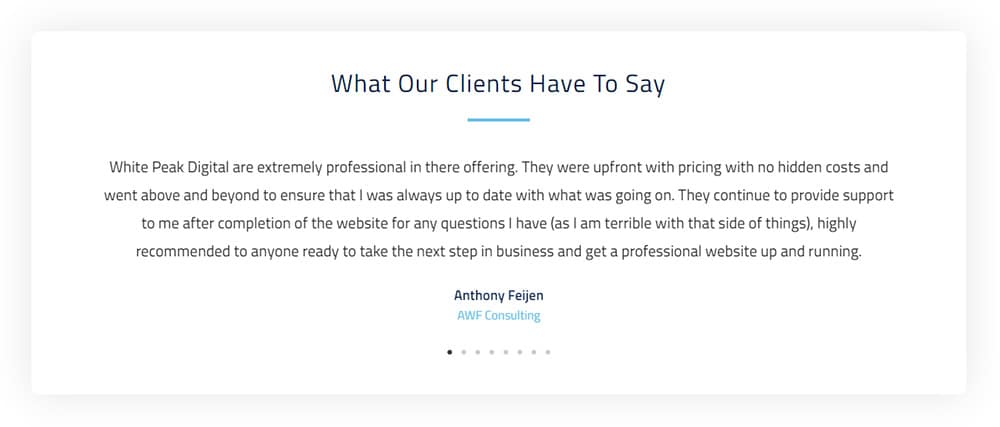 For your home or landing pages, you can also add a collection of logos (ideally well-known ones) that will instantly build trust with your audience.
If social proof isn't something you're currently featuring on your website, then you can expect significant improvements in your conversion rates once it's been added to all of your critical pages.
Remove unnecessary form fields
Too many required form fields is one of the best ways to ruin your website conversion rate.
Keep your conversion forms as short as possible and only include the essential fields that are necessary to accomplishing your goal.
This can obviously be taken too far however.
If you're not collecting all the information your sales team needs to convert those leads however, you're only pushing your conversion issues down the road and your close rate will suffer dramatically.
This just means you need to find the right balance between collecting the necessary information and simplifying your forms as much as possible to get the best results possible.
Remove distractions from your site
One of the most common mistakes we see at White Peak Digital when conducting Website Audits for our clients are pages with no clear call-to-actions and numerous distractions that don't reinforce the pages primary goal.
Your landing pages should be clear, concise and easy to navigate so if it's not important, don't include it.
If possible, you should only have the following elements on your landing pages:
Clear headline and subheadings
Valuable benefits and features
Social proof (testimonials, reviews or logos)
Engaging visuals with context promoting your offer
There are cases where adding a live chat box or video content can also be useful but these still only exist to support your main offer and shouldn't distract your visitors from the pages primary goal.
Strengthen your call-to-action copy
Generic CTA (call-to-action) buttons like 'Sign up' or 'Start trial' aren't going to give you the best conversion rates possible.
Spending a few minutes improving this copy will give you an easy conversion rate boost.
Start your CTA with the word 'Yes', it's highly effective psychologically because it positions your offer in a positive light.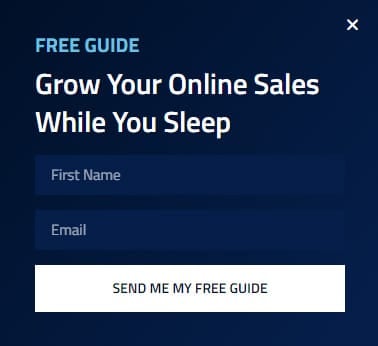 Try something like: Yes, I want [your offer]!
This works far better than your standard CTA copy.
Try another offer or guarantee
Don't fall into the trap of spending all your time optimising your landing page and forget about the importance of choosing the right offer to promote.
This for obvious reasons has one of the biggest impacts on conversion rates because it's critical you have an offer that's appealing to your target market.
If you've implemented our previous recommendations in this article and your conversion rate is still underperforming, I'd recommen cycling through different offers until you find one that your visitors respond too.
It may take you some time to test several offers before you find one that works but as long as you keep experimenting and tracking your results (even after finding your first winner), you'll be way ahead of the competition.
If you're confident that the offer you've chosen is valuable and that your customers will appreciate it once they've given it a go, another option is to offer a money-back guarantee or another form of guarantee that removes any risk from your customer.
A money-back guarantee is the most popular option and it can have a massive impact on your conversion rate because it helps solve most of the objections your website visitors may have.
Add live chat to your website
Many of your visitors may be on the fence about buying your product or service and all it may take is the answer to one or two questions to get them over the line.
A live chat option is the perfect way to help answer those questions and have those visitors take the final step and convert.
This is also a great way to conduct user testing to see if you're often receiving the same types of questions through your live chat.
Receiving the same question over and over usually indicates the need to change something on your landing page, like adding an FAQ section for example, which will reduce the number of visitors using your live chat and therefore saves your team time.
Add a third-party signup service
Alternative options to sign-up and login to a website have become quite popular in recent years.
Instead of creating a new profile from scratch a user can login using their Google, Facebook or another online account.
This ties back to a previous recommendation in this article about removing unnecessary form fields, well this removes the sign-up form altogether.
This allows a visitor to sign-up to your website in a matter of seconds by simply clicking a button or two.
Adding this functionality to your website will have an immediate impact on your conversion rate.
Add a countdown timer
It's natural to feel anxious when time is running out, you can capitalise on this by adding a countdown timer to your landing page.
A study by CXL explains how one brand increased their conversion rate by 332% by using a limited time offer banner and a countdown timer.
This is usually quite a simple feature to add to your website as well, especially if it's built on WordPress or Shopify for which numerous plugins exist.
A/B test your landing pages and headlines
Take advantage of A/B testing to experiment with the layout and copy on your landing pages, your headline is especially important and can make or break the rest of your page.
Your headline is so important to get right because it's one of the first things any website visitor will read when they first visit your landing page and it only takes a moment for them to hit the back button and leave your website for good.
According to Copyblogger, on average, 8 out of 10 people will read headline copy, but only 2 out of 10 will read the rest.
That means that 80% of the people on your landing page don't read past the headline which highlights how critical it is to get right.
When A/B testing your headline for example, try experimenting with the following elements:
Length
Tone
Use of statistics
Use of numbers
Start Increasing Your Website Conversion Rate Today
Your website is likely already using a few of these the tips I mentioned above but if you've found something new in this article that ends up helping increase the conversion rate on your website make sure to leave a quick comment down below and let me know, I'd love to take a look!
A/B testing is your friend when it comes to experimenting with your landing page and its conversion rate so don't be afraid to try something new because you can always change it back if it doesn't work out.
Learning how to increase your conversion rate isn't all that difficult so here's a quick checklist for you to follow that covers everything we went through in this article:
Add a pop-up to your website
Add social proof (testimonials, reviews and logos)
Remove unnecessary form fields
Remove distractions from your site
Strengthen your call-to-action copy
Try another offer or guarantee
Add live chat to your website
Add a third-party signup service
Add a countdown timer
A/B test your landing pages and headlines
Implement these tips on your landing page to increase your conversion rate by reducing friction and making it simple for your website visitors to convert.
To your success,
Jackson